Are you a Christian believer who is struggling to understand what saving faith truly is? If so, then this blog post will provide you with the clarity and assurance that can help guide your faith journey. Guided by biblical references, we'll explore different facets of salvation, distinguish between true and false beliefs, challenge all believers to put their faith into action, and discover how genuine trust in Jesus Christ helps us become the people God has called us to be. So, grab your Bible and join us as seek out answers to the question: What is Saving Faith?
What saving faith is not?

What, then, is this saving faith that is completely apart from works? We will consider some things that neither prove nor disprove true faith. Although they will be evident t some degree or another in true believers, they can also be evidenced, sometimes to a high degree, in unbelievers.
A person may be outwardly moral and yet not be saved. By his refusal to obey Christ, the person demonstrates that his outward obedience was not done out of love for God but instead out of "self-love" and his own "self-interest."
Knowledge of God's truth is not necessarily a proof of saving faith. It is possible to have a great deal of knowledge about God's Word and yet be "unsaved." In ss scripture, the scribes and Pharisees in Jesus days devoted their lives to careful study of Scripture. But because they did not believe it or obey its' truths it became a judgment against them, and they remained lost.
Having an active ministry in Christ's name is no certain proof of saving faith. Outwardly, Judas Iscariot' disciple of Christ, was as active as the other disciples, witnessed by the fact that he served as their treasurer. And obviously he considered himself a follower of Jesus Christ. "Not everyone who says to me, Lord, Lord will enter the kingdom of Heaven; but he who does the will of My Father who is in heaven. (Matthew 7:21)
The assurance of salvation is not an infallible mark of saving faith. The world is filled with people who are sincerely convinced in their own minds that they are right with God and that their place in Heaven is secured. If being persuaded that we would need no warning about being deceived by false hopes. (Matthew 7:21-23)
Your experiences of a past decision for Jesus Christ does not necessarily prove saving faith. If no evidence of godly living results from that event, no matter how strong and genuine the profession seemed to be, it is no proof of salvation.
What Saving Faith actually is?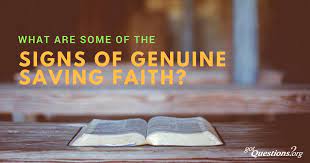 There are, however, some proofs of saving faith. God doesn't leave His children to be uncertain about their "relationship to Him."
Reliable evidence of saving faith is "love for God." "The mind set on the flesh is hostile toward God," according to the book of Romans 8:7 in the Bible. The unsaved person cannot love God and has no desire to love Him. The true child of God, despite his shortcomings to his heavenly Fathe, will have a life "characterized" by delight in God and His Word (Psalms 1:2). Love for God will be the direction of the true believer's life, if not the "perfection" of it.
Saving faith is "repentance" from sin and the hatred of it that always accompanies true "contrition." The person who genuinely loves God will have a "built-in hatred of sin." It is impossible to love two things that are contradictory of one another. According to scripture, "No one can serve two masters, for either he will hate the one and love the other, or he will hold to one and despise the other." (Matthew 6:24)
A person cannot be saved as long as he trusts in and exalts himself. Just like the "prodigal son" in the Bible, the true who sins will eventually come "to his senses," his spiritual senses that convict of sin. He will then, again like the prodigal, go to his heavenly Father and humbly confess his sin and his unworthiness of forgiveness, while pleading for it based on his Father's grace (Luke 15:17-21).
A mark of saving faith is "selfless love," not only for God, but also for other people, especially fellow Christians. In the book of 1 John 2:9-10 in the Bible it teaches that "the one who says he is in the light and yet hates his brother is in the darkness until now. The one who loves his brother abides in the light and there no cause for stumbling in him." The person who does not sincerely care for the welfare of other's is himself not a true believer, but still abides in spiritual death.
Obedient living is a mark of saving faith. "By this, we know that we have come to know that we have come to know Him (Jesus Christ) if we keep His commandments. The one who says, I have come to know Him, and does not keep His commandments, is a liar, and the truth is not in him, but whoever keeps His word, in him the love of God has truly been perfected. By this we know that we are in Him" (1 John 2:3-4). Although no one is saved by his good works, those who are truly saved will produce good works, because "we are God's workmanship, created in Christ Jesus for good works, which God prepared beforehand, that we should walk in them" (Ephesians 2:10).
It's easy to get confused when it comes to understanding salvation and the saving faith required for us to receive God's grace. As we've seen through our exploration, being a Christian believer involves more than just believing in Jesus on an intellectual level – it's about living out your faith through action. Our hope and prayer are that, by studying scripture together, each of us can develop a deeper, more meaningful relationship with God while also discerning false beliefs from genuine truths. Remember: The gift of salvation is free, but exercising your saving faith costs everything! All glory and praise be to God Almighty as we grow ever closer to Him through courageous acts of faith.
Thank you for viewing,
Ralph