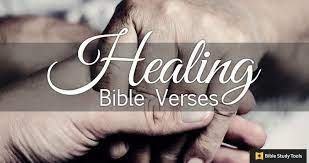 HEALING. Jesus Christ can heal us, not just our physical sickness, but of spiritual sickness as well. There's no sin or problem too great or too small for him to handle. Jesus' words were good news because they offered freedom, hope, peace of heart, and eternal life with God. (Matthew 9)
Check out our New YouTube Channel called: GROWING MATURE
We must be careful not to concentrate on God's power to heal physical sickness more than on the power to forgive spiritual sickness in the form of "sin." Jesus saw that even more than physical health, we needed spiritual health. Spiritual health comes only from Jesus' healing touch.
Don't be discouraged if God does not physically heal us or someone we love. We need to remember that physical healing is not Jesus Christ only concern. As believers, the day will come when we will be completely healed in Jesus Christ's kingdom; but first we have to come to know Jesus. (Matthew 14)
Throughout the Bible scriptures, people recognized Jesus Christ as a "great healer," but how many truly understood who He was? Many came to Jesus Christ for physical healing, but how many came for spiritual healing? Instead they came only to prolong their lives on earth, but not to secure their eternal lives? We today even seek Jesus to learn valuable lessons from His life or in hopes of finding relief from pain. We will miss out on Jesus Christ's whole message if we seek only healing for our bodies and not our "souls" or if we look to Him for only help in this life, rather than for His eternal plan that He offers all of us. Only when we understand the real purpose of Jesus Christ can we appreciate how He can change our lives.
We learn in life when we are sick in our bodies, it creates limitations that restrict our freedom of movement, make us incapable of doing things, and even complicates our freedom to enjoy life. But healing can also be spiritually, a "restoration" of our soul. As a believer, we know "Sin" is the ultimate sickness, eating at the "core" of the soul, and spilling out on our "physical," "mental," "social," and "moral" wellbeing. Healing from "sin" comes from a right "relationship" with God through Jesus Christ.
Finally, in the Bible (2 Corinthians 6:16-18, 7:1), we learn that "we are the temple of the living God." God says in the scriptures: "I will live with them and walk among them, and I will be their God, and they will be my people. Therefore, come out from them and be separate, touch no unclean things, and I will receive you, I will be a Father to you, and you will be my sons and daughters, says the Lord Almighty. Since we have these promises, dear friends, let us purify ourselves from everything that contaminates body and spirit, perfecting holiness out of reverence for God."